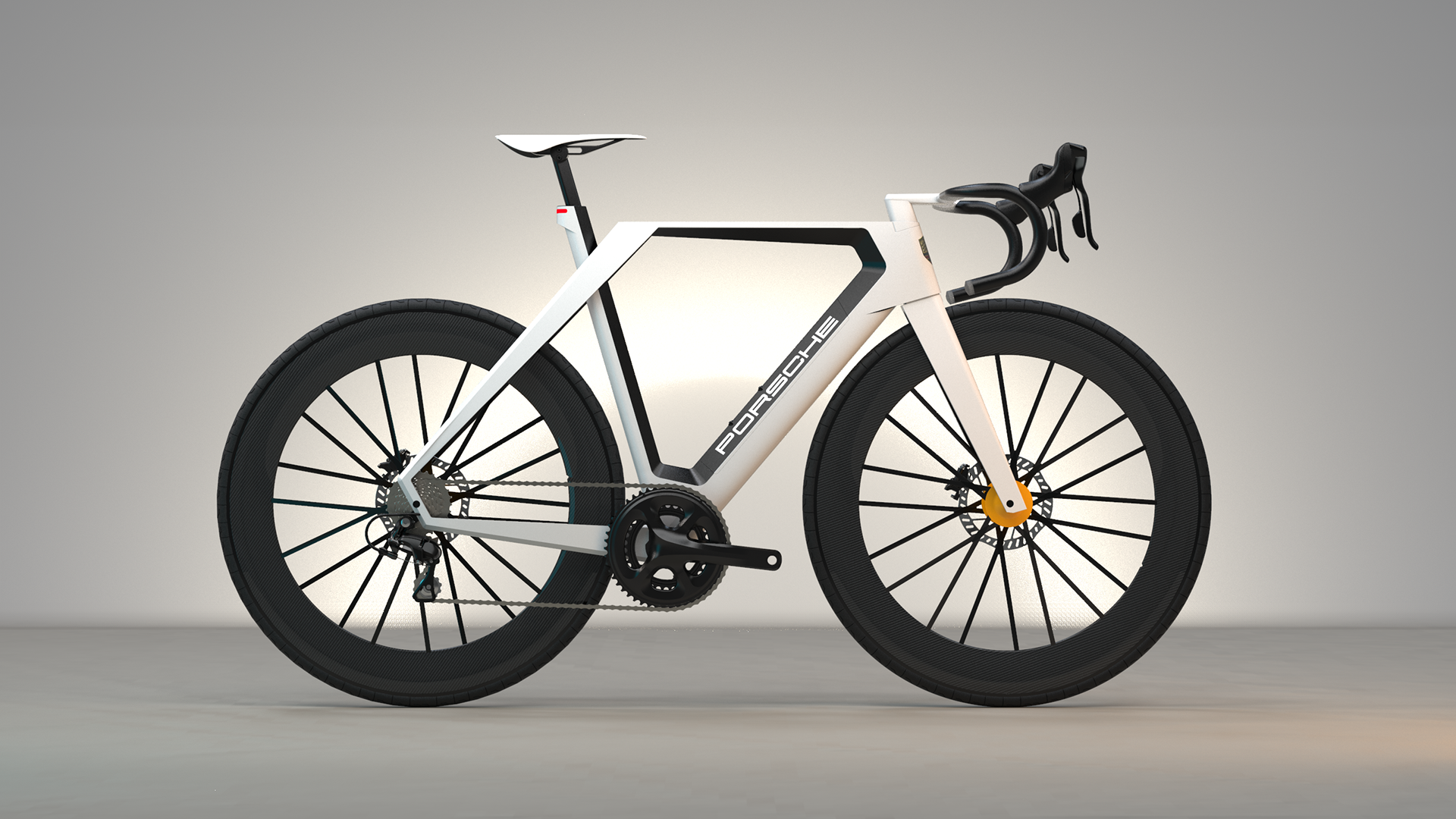 Porsche Cycling: Century E-Bike
The Century E-Bike by Porsche Cycling* is a performance road bike designed for the urban commute. Combining  technology, performance-driven design, and traditional road bike pedigree, the Century E-Bike fuses lightweight transportation with the values and experience of the Porsche brand.
*Porsche Cycling is a concept brand for educational purposes only. All rights belong to their respective owners. This project was sponsored by Czarnowski.
Team members:
Daniel Nixon, Joseph Nixon, Rachel Hu, Sarah Haymans, Vaishu Merugu, Caleb Platt
My role:
research, concept development, form development, surface modeling, rendering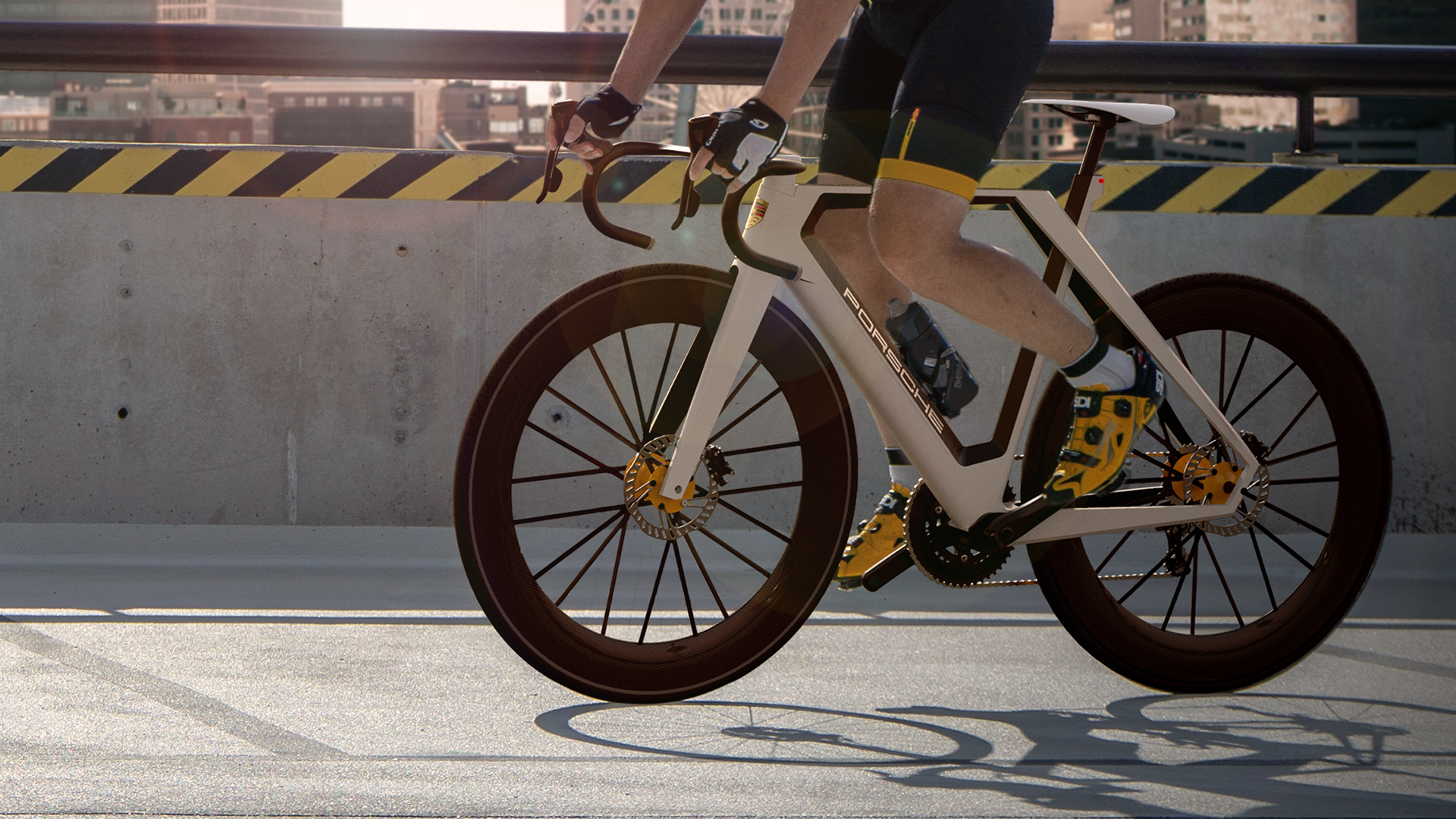 Create a light-individual-transportation sub-brand of Porsche and design their flagship vehicle.
Through surveys, interviews, and observations, we gathered data on urban commuting and road users. Here is what we found.
With changing infrastructure in cities, population growth, and the desire for more sustainable and affordable methods of transportation, commuting by bicycle is trending around the globe. Electric bikes make the human-powered shift easier for many new riders and are growing in popularity.
The recent COVID-19 pandemic has only accelerated these trends.
In most cities there is a distinct hierarchy of road users. Our research found that while cyclists are generally respected more than scooters, they are still subordinate to the motorist. With trends towards a more car-free future, such a mental model may prove unsustainable.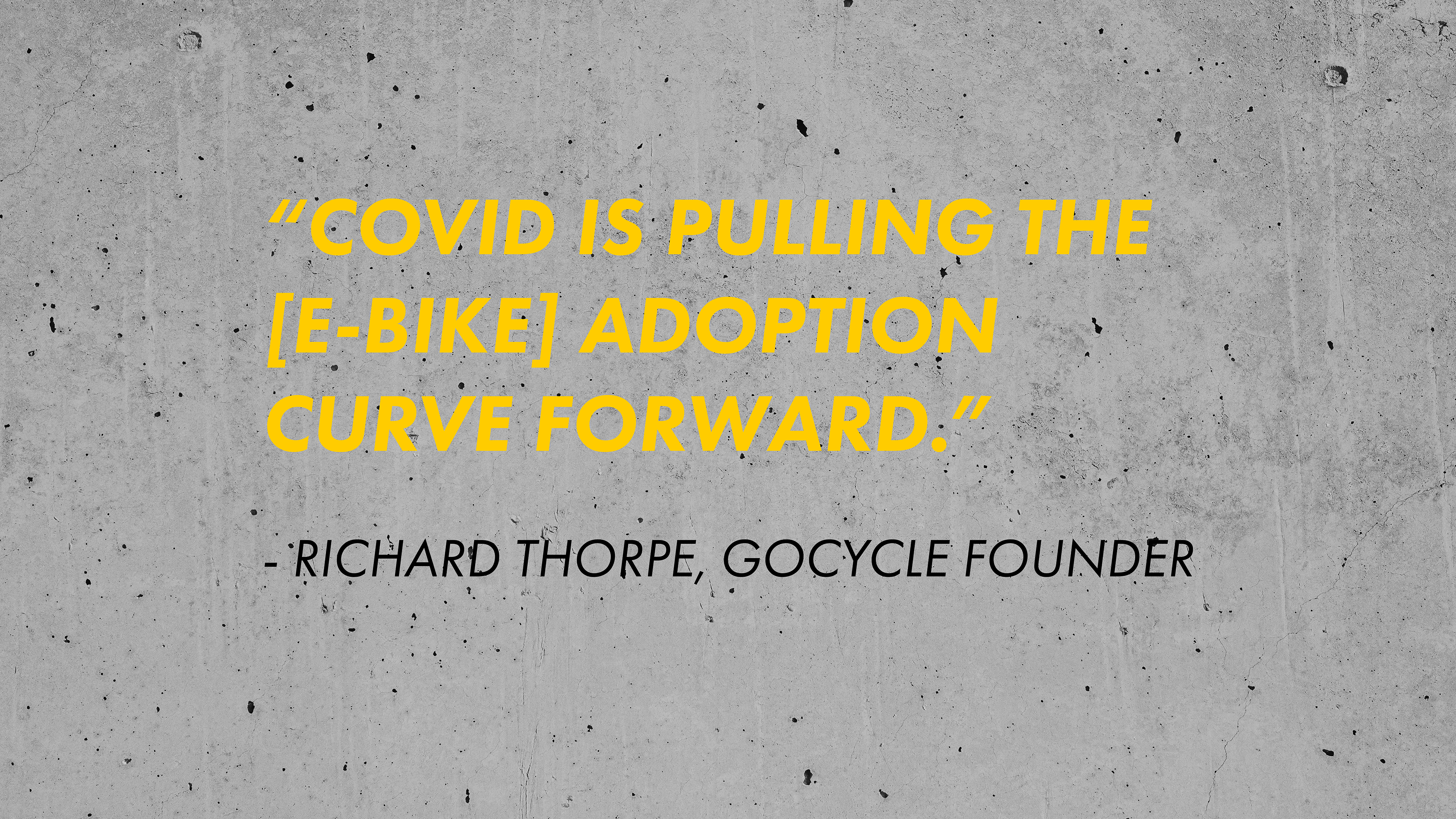 Porsche: Understanding the Brand
Surveys, interviews, dealership visits, and secondary market research helped us understand Porsche's brand and design philosophy.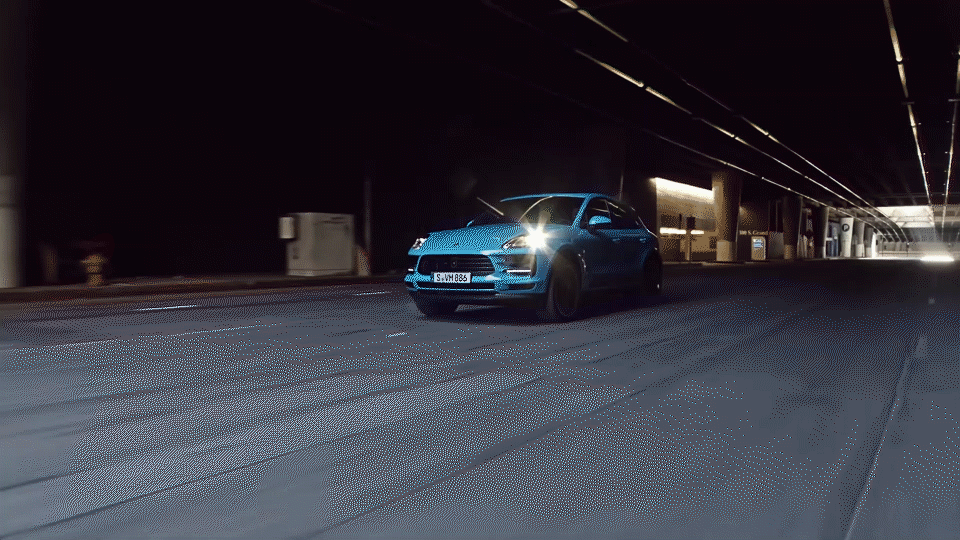 An Everyday Lifestyle Vehicle
Though many think of a 911 sports car when they hear Porsche, their SUVs are by far their best selling models. Though Porsche's heritage is in racing, they market themselves as an everyday lifestyle brand: a blend of luxury, performance, and utility.
Uncompromising Performance
Nonetheless, Porsche's focus on practicality is not to the detriment of performance. Porsche is clearly proud of their racing roots. All of their vehicles still boast superior power, driving experience, and sporty, aggressive styling.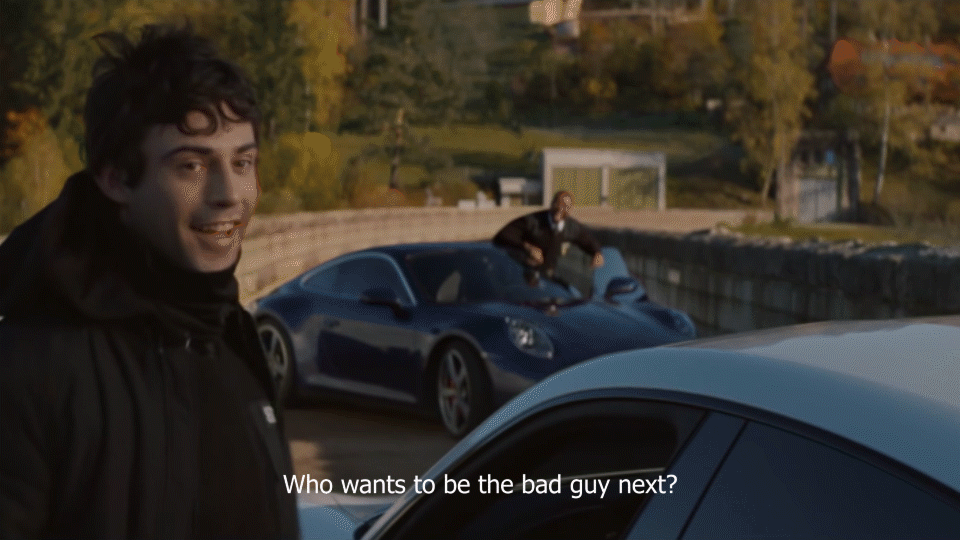 In Porsche's 2020 Superbowl commercial "The Heist," an intense car chase ensues after the newest Taycan is stolen. However, the apprehension of the culprit is not the end, as the drivers begin taking turns as the "bad guy." The message: no one cares about the rules when having this much fun.
How might we elevate the e-bike to a competitive alternative to the automobile?
As the "bike guy" of the team, Daniel led the early concept development. Later on, I took over to refine the design, addressing proportions, surface treatments, and details.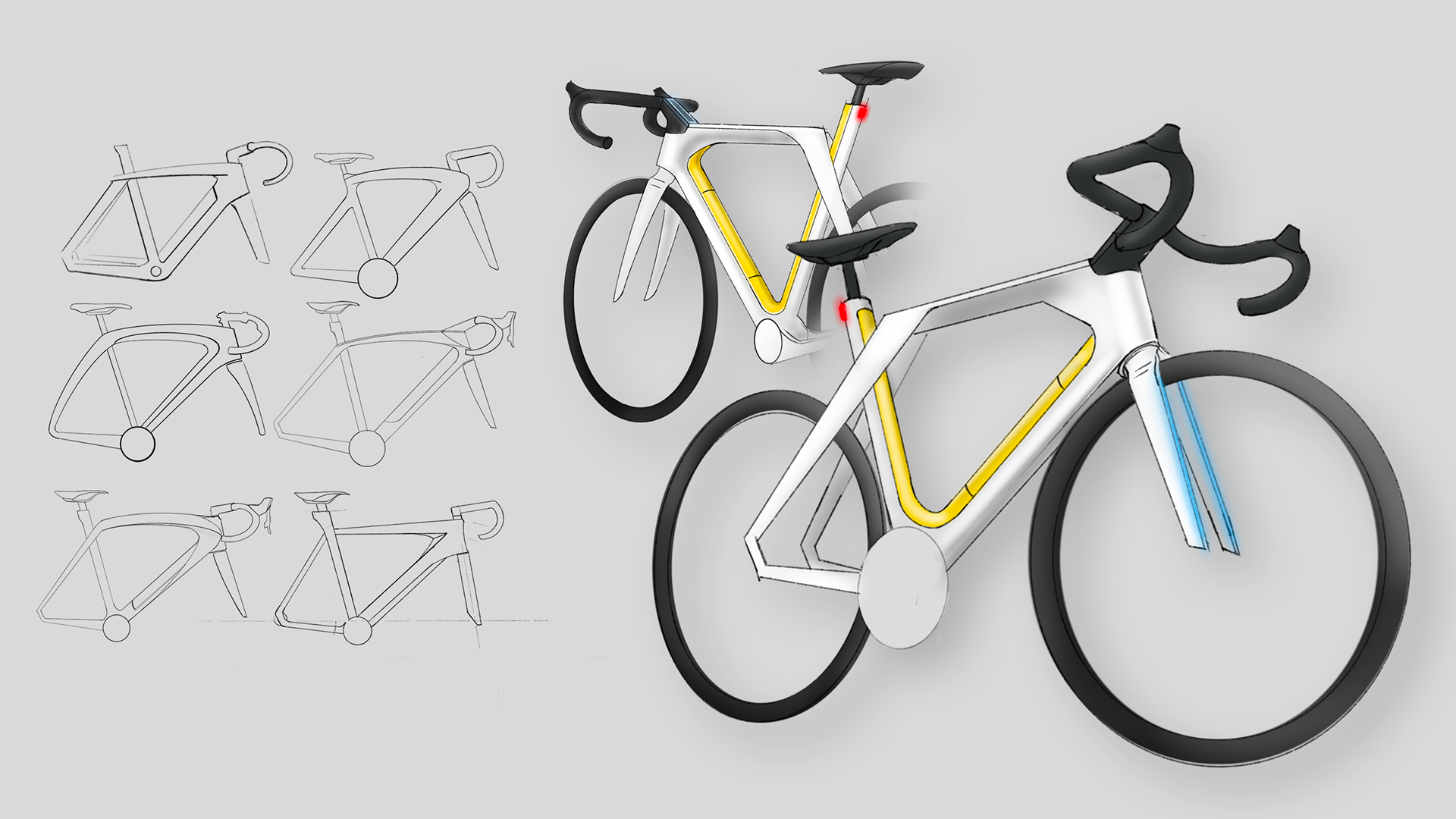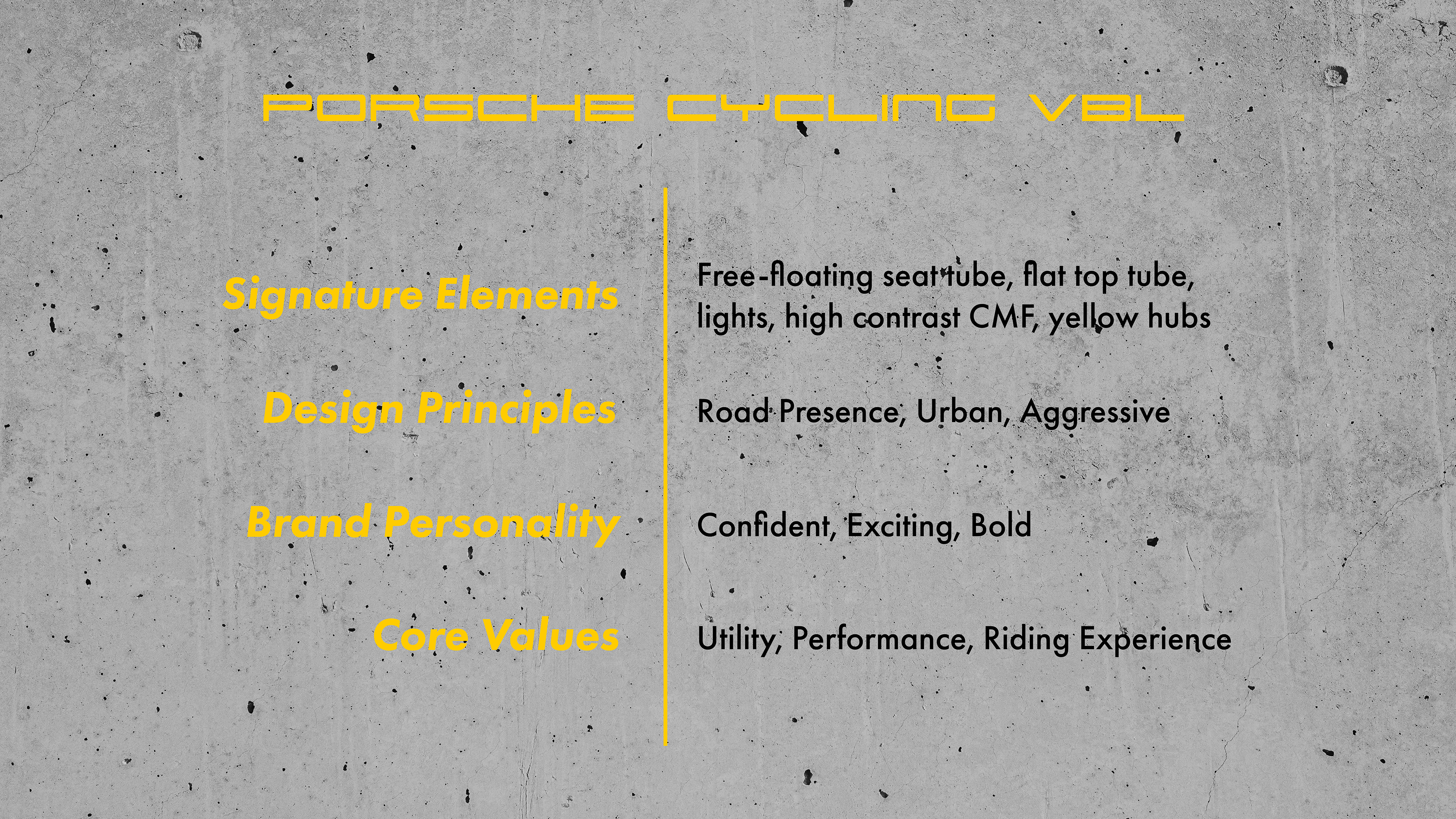 Mid and high-fidelity sketches and renderings enabled me to refine details and proportions before diving into CAD.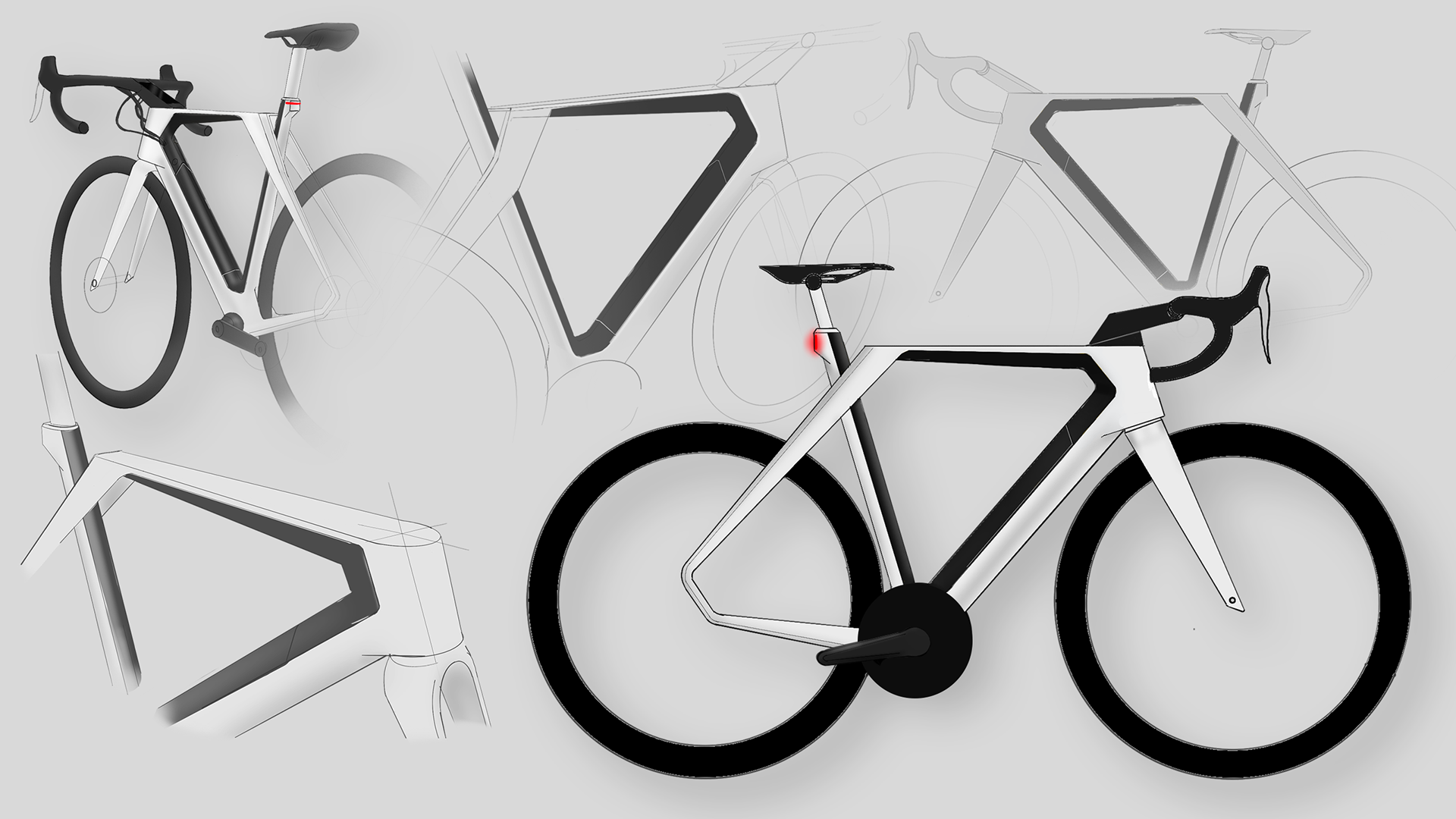 Surfacing of the frame took multiple iterations, resulting in a high-quality detailed 3D model.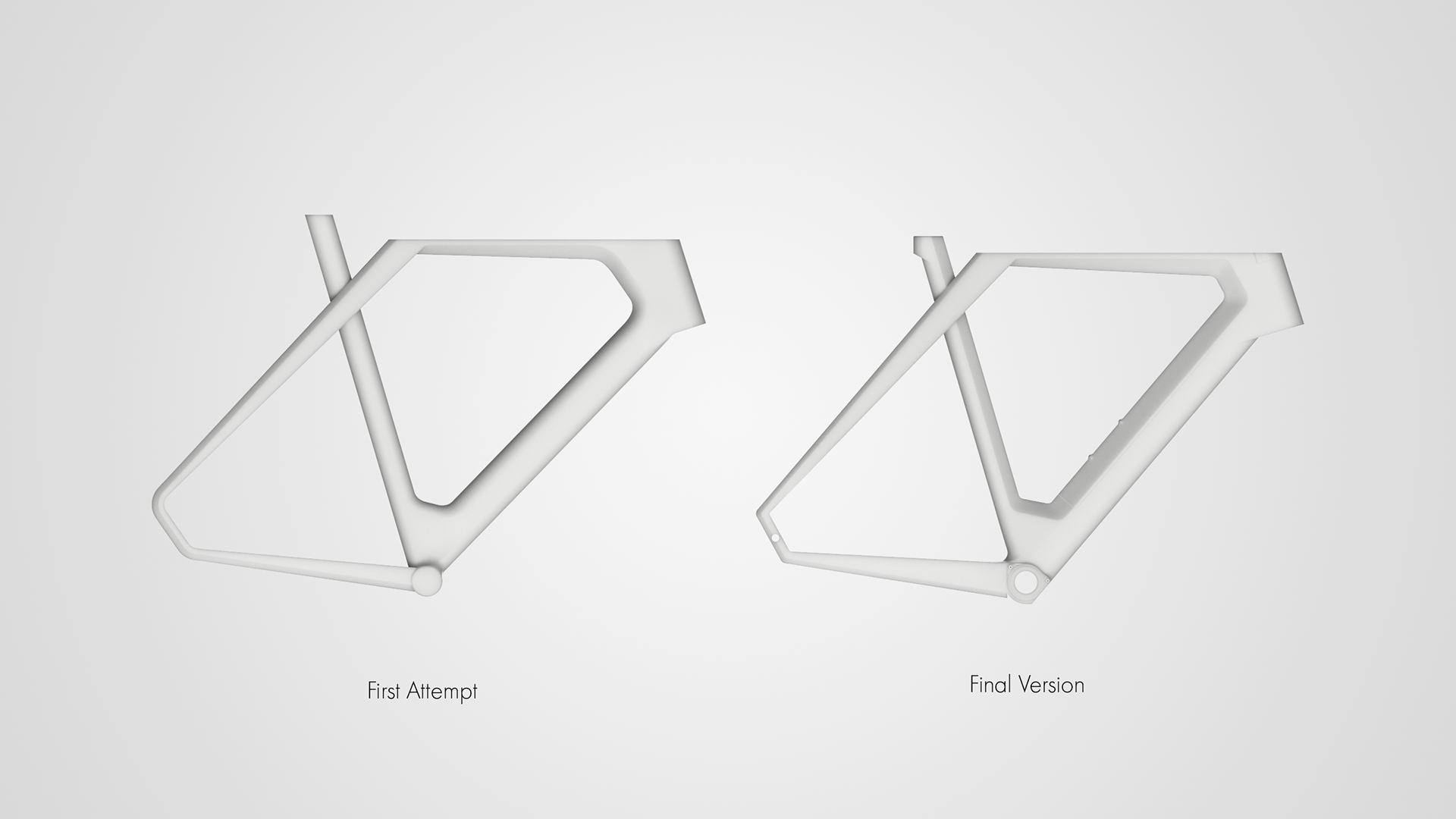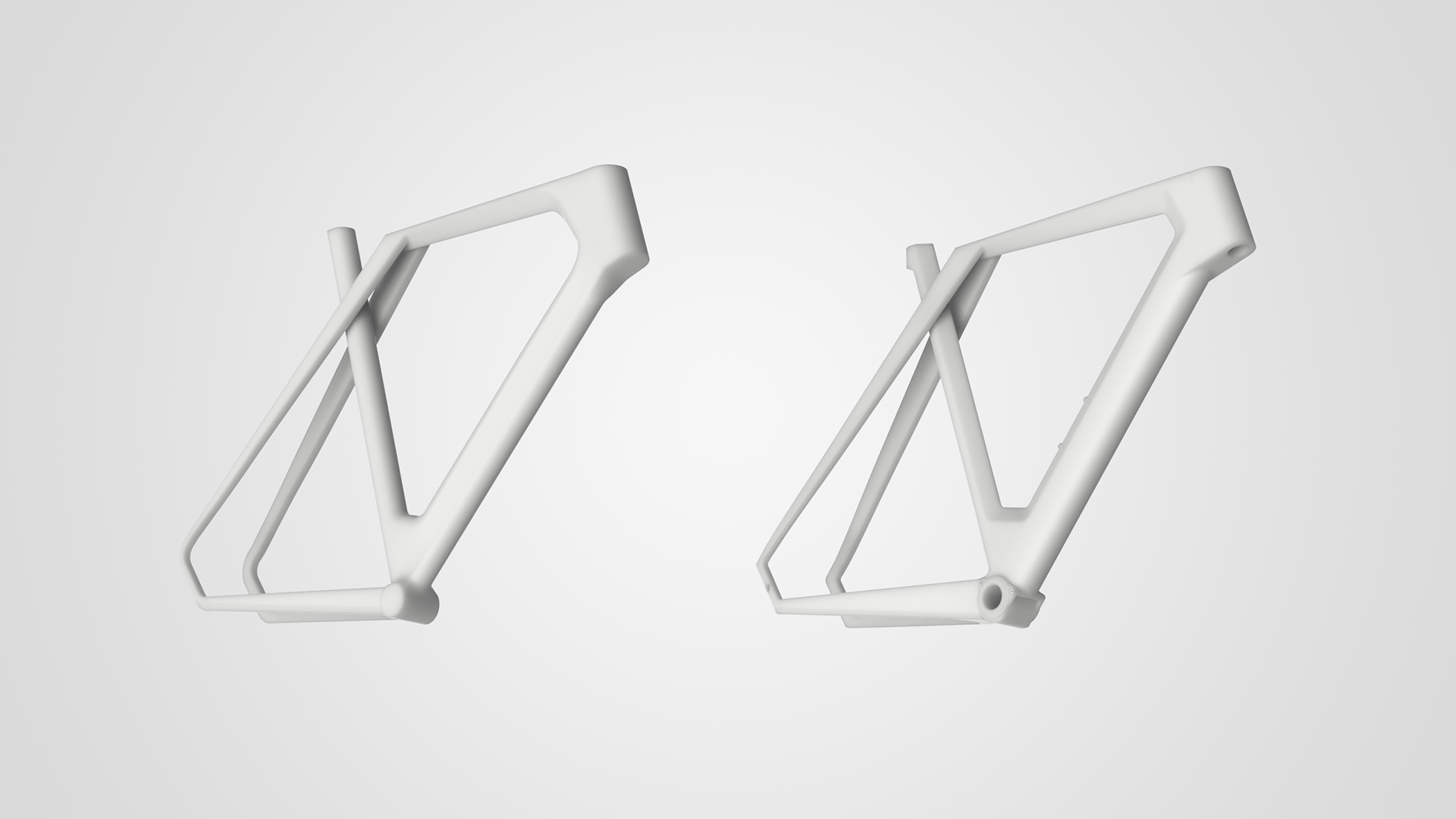 The final design features a combination of aggressive, sporty styling and practical features.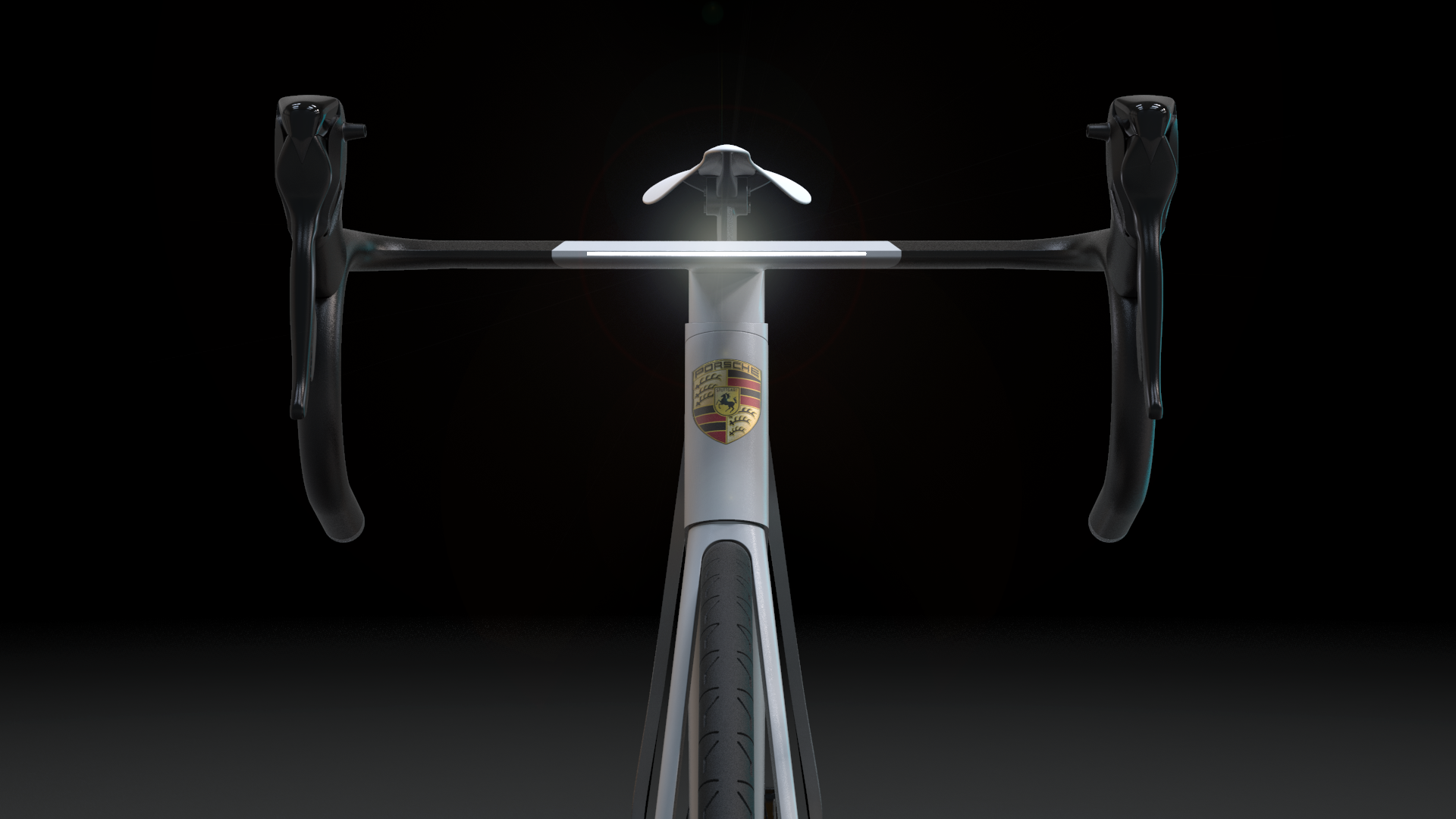 An integrated headlight and taillight, bar end turn signals, and lane projection increase rider safety and establish road presence without the bulk.